Tackling the future of plant operation – How to integrate online data-analytics, process control, and PAT for optimal plant operation
January 25, 2017, DECHEMA-Haus, Frankfurt am Main, Germany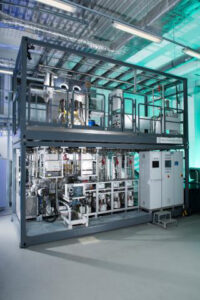 Selected representatives from the different sectors of the process industry and automation experts will be invited to this workshop in order to discuss the current opportunities, new technologies, and future challenges of integrated process automation. Different aspects that are relevant for optimal process operation will be covered: online data-analytics, monitoring applications, data management, data security, novel sensor technologies, data-driven and rigorous process modelling, process control, and many more.
What you can expect:
Case studies on the integrated use of novel sensors, online monitoring, and process control
Get a clearer picture on how to improve process operations by integrated process automation
Get inspirations for your own business
Stay up to date and learn about future trends in process operation
Bring in your perspective and help shaping the future of process operation
Meet and discuss with people sharing the same professional interests
Possibly find partners for future collaborations on European level
The workshop is being organized by the two European funded research projects CONSENS and PROPAT. The agenda will include:
Short overview on CONSENS and PROPAT
Presentation of industrial case studies on integrated process automation
Key notes on selected topics
Market place: posters and exhibition on new technologies for integrated process automation
Moderated parallel discussions on selected topics
Wrap up of discussions until 18 pm
Lunch, dinner and get together (until 22pm)
A detailed program of the workshop will be published end of September. At the same time, invitations will be sent to selected stakeholders. In case places are left, additional participants will be accepted.
The industrial partners of CONSENS and PROPAT include many multi-national and national companies from the sectors of consumer goods, chemicals, pharmaceuticals, mining, nanomaterials, and polymers as well as numerous research institutes and universities from all over Europe. Our joint goal is to advance the operation of process plants by introducing new technologies in sensing, online data-analytics and control in an integrated way.
More information on the event will be published on the SPIRE website:
The CONSENS and ProPAT projects received funding from the European Union's Horizon 2020 research and innovation programme under the grant agreements No 636942 and No 637232. The statements above only reflect the author's view. The European Commission is not responsible for any use that may be made of the information it contains.